Thule Chariot Cougar 2 Neu + OVP div colors with shaft and coupling - Midrand
Tuesday, 31 May 2016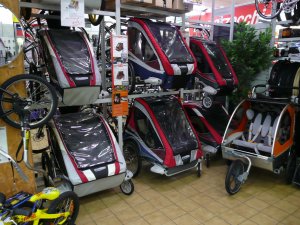 Contacts

Camilia
Item description
Here we offer a multifunctional children trailer branded Thule.

It is the Chariot Cougar 2, optionally in green 8avocado) or red

Delivery: Delivery is complete with bike-set (that is, the drawbar, pennants, reflectors and 1x clutch are)

To use the trailer perfectly, there are infinitely many accessories. The example you can see on the pictures. This we have in other auctions also to carriage free.

The Delivery is free via forwarding. Individuals' cash in the shop we assemble the clutch at the wheel for free.

This is the current model with Thule brand imprint. Due to our numerous customer feedback, we can already say that is important for the resale once.

In this version, the improved parking brake is attached to the side so you can reach them comfortably. With the old model, it is covered by the luggage compartment.

Errors and sale reserved in store.

Please contact us if phone during opening times available,

Questions before buying avoids behind stress.